I am always on the lookout for great deals to share, and I found a hot one today!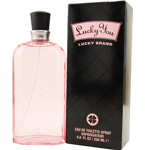 FragranceNet
is selling Lucky You (my perfume) with a 62% discount plus an extra 10% discount when you use the code FYR10.
The original price: $65.00
FragranceNet Price: $28.19
+ Additional 10% off:
$25.38 (Final Price)
You Save: $39.62
(Now that's what I call awesome savings.)
Not to mention the deal gets even sweeter because I can pay with my Paypal account. (Payment is accepted via paypal or credit/debit card)
And if those savings aren't awesome enough, I also found my magazine
Good Housekeeping
at 81% off!

Original Price: $41.88
MagazineLine Price:
$7.97